From (1-2 years), toddlers make dramatic gains in physical mobility and dexterity,
in understanding language and in their ability to actively explore their world around them.
Play is the main focus of the Lambs. We strive to provide a fun and stimulating day filled with opportunities for holistic development in a safe and loving environment. Our day includes music and physical activity, routines, sensory play, library, stories telling and arts & craft.
If you're ready for more info, we'd love for you to come visit us!
What will my child learn this year?
The syllabus is theme-based giving us the opportunity to explore a wide variety of fun and exciting concrete concepts, together with the associated vocabulary. Most themes are run over a 2-week period to allow for layered learning through reinforcement.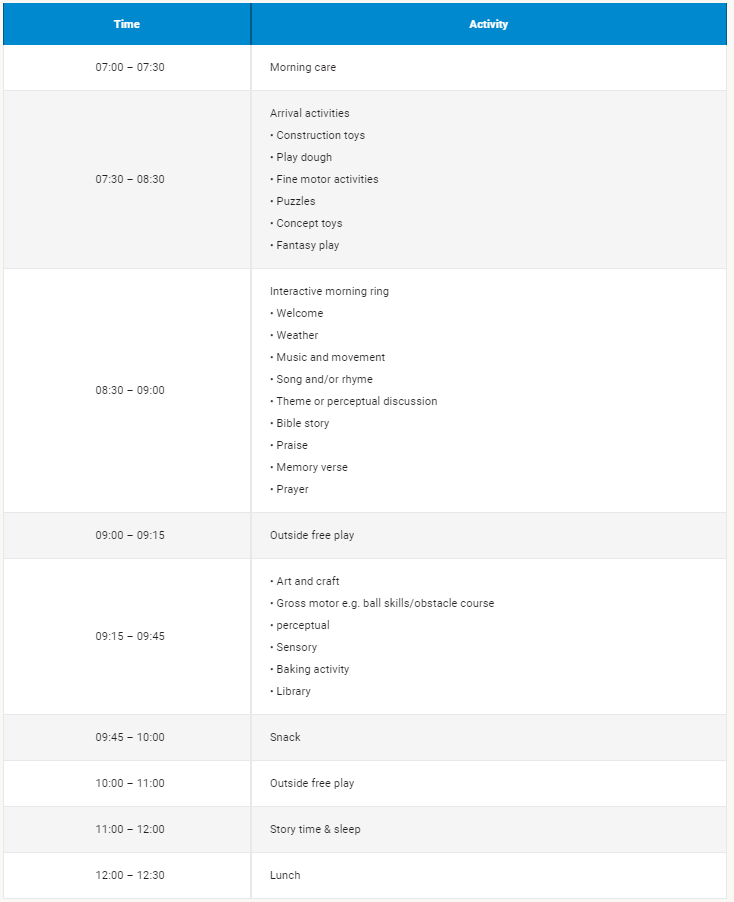 Time

Activity

07:00 – 07:30

Morning care

07:30 – 08:30

Arrival activities
• Construction toys
• Play dough
• Fine motor activities
• Puzzles
• Concept toys
• Fantasy play

08:30 – 09:00

Interactive morning ring
• Welcome
• Weather
• Music and movement
• Song and/or rhyme
• Theme or perceptual discussion
• Bible story
• Praise
• Memory verse
• Prayer

09:00 – 09:15

Outside free play

09:15 – 09:45

• Art and craft
• Gross motor e.g. ball skills/obstacle course
• perceptual
• Sensory
• Baking activity
• Library

09:45 – 10:00

Snack

10:00 – 11:00

Outside free play

11:00 – 12:00

Story time & sleep

12:00 – 12:30

Lunch