In Grade 00 we are focused on developing each child emotionally, socially, academically and spiritually. We do creative activities which help develop their fine motor skills. Outdoor play to develop gross motor skills is important in this class.
Educational and perceptual activities will form part of their weekly program. Numeracy skills are taught where they learn to count, identify numbers and also organize objects according to size, shape and colour. The language area includes descriptive language, vocabulary enrichment and Letterland (phonics).
If you're ready for more info, we'd love for you to come visit us!
What will my child learn this year?
A child's development is a joyous journey of discovery, adventures, trials and errors, until one day skill for skill it all comes together. Through discovery, experience and play we assist the children grow, learn and develop. We journey with your child where skills are developed, knowledge is discovered and thousands of experiences are enjoyed along the way. We want to help shape your child's body, heart and mind with care and thoughtfulness.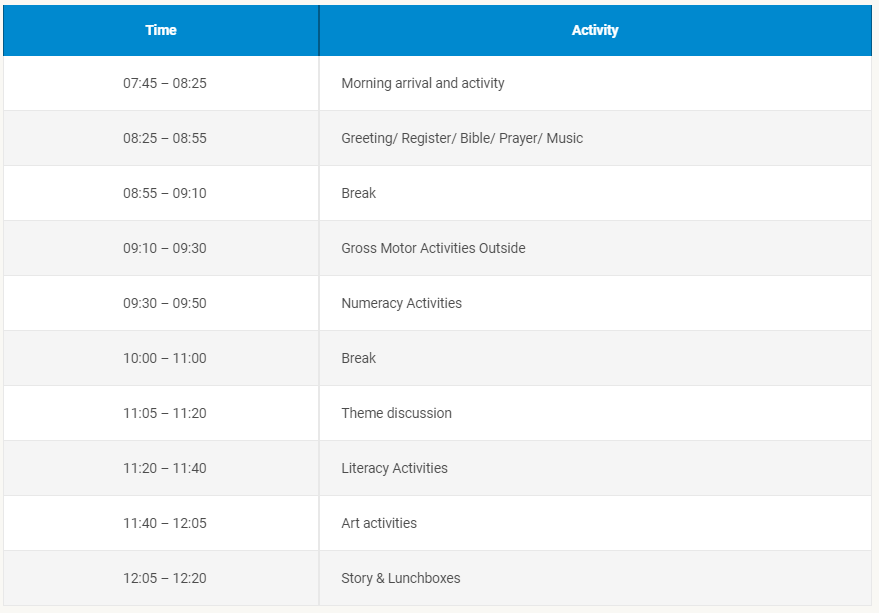 | Time | Activity |
| --- | --- |
| 07:45 – 08:25 | Morning arrival and activity |
| 08:25 – 08:55 | Greeting/ Register/ Bible/ Prayer/ Music |
| 08:55 – 09:10 | Break |
| 09:10 – 09:30 | Gross Motor Activities Outside |
| 09:30 – 09:50 | Numeracy Activities |
| 10:00 – 11:00 | Break |
| 11:05 – 11:20 | Theme discussion |
| 11:20 – 11:40 | Literacy Activities |
| 11:40 – 12:05 | Art activities |
| 12:05 – 12:20 | Story & Lunchboxes |